Compete in NEF Pitch Pit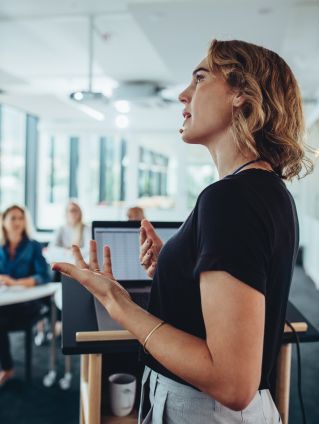 While the hallmark of New Enterprise Forum is our signature investor presentation pitch coaching, we also know that there are many early-stage companies that are just starting off and need practice telling their story and networking within the community. So, NEF also conducts four Pitch Pit Competitions throughout the year.
A Pitch Pit Competition is a wonderful opportunity to vet a business plan in front of an experienced panel of judges and an encouraging audience. Each participant will receive constructive feedback from the judges for moving his or her business idea forward and the judges' tips on how to succeed and improve. In addition, the winner of the competition will receive a complimentary sixty-to-ninety-minutes-long Business Readiness Assessment coaching session with a team of experienced NEF coaches.
NEF Pitch Pit Process:
How to Apply
Application Selection
Applicants are selected by the NEF Pitch Pit Committee, whose decision is based upon the clarity of the business concept, uniqueness in being able to rise above industry competition and an audience engagement quality.
Applications are reviewed and three or four contestants are selected. The Pitch Pit Committee will notify each contestant via email to confirm their availability for the Pitch Pit date for which they applied and share next steps. If selected, the contestant must be able to attend in-person at a NEF monthly forum meeting in Ann Arbor, Michigan.
The Four-Minute Pitch
The Pitch should be all about your business plan and why people would buy it. Describe more about the benefits of using your product versus its features.
PowerPoint slides are not permitted. Think of it as the proverbial "elevator speech."
The presentations should be simple and engaging – but no more than four minutes – you will be timed!
The Judging
Three experienced entrepreneurial judges will determine the winner and give constructive feedback to each presenter.
The criteria the judges will be using will be viability of the product in the marketplace and scalability of the idea as a business.
The Prize
Each participant will benefit from the experience of telling his or her story in front of an audience and receiving constructive criticism from a panel of judges. Each will also receive an edited-down video of their presentation.
In addition, the person chosen the winner will receive a New Enterprise Forum Business Readiness Assessment with a team of NEF coaches that will explore their business idea in detail.
Pitch Pit contestants will be featured in NEF social media and on the website.