NEF Showcase Presentation and Panel Discussion - Online Event
June 18, 2020
New Enterprise Forum invites anyone interested in entrepreneurship to join us for an ONLINE Forum Meeting.
During this unprecedented time, we want to continue to support our entrepreneurs and give them a chance to connect with the entrepreneurial community, even if it means being VIRTUAL in presenting their ideas and business plans.
We showcase an outstanding team of entrepreneurs who are looking to raise capital for their venture. They have gone through an extensive coaching from our experienced coaches and these founders are eager to present their venture to the entrepreneurial community at this event.
This event gives the start-up the opportunity to practice presenting to investors and others interested in the Detroit Area entrepreneurial community. Each presentation will reflect NEF training on what is important to communicate and what not to do. They would greatly appreciate your feedback, insights and encouragement. You will also learn a few tips and techniques in sharpening your own pitch for your venture.
Join us at this ONLINE meeting to ask questions, keep pace with local entrepreneurs, and connect with people who support the local start-up community.
Showcase Presenter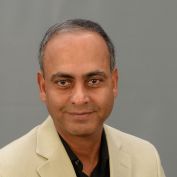 eSimplify is a predictive practice analytics platform for primary care physicians. eSimplify helps primary care physicians maximize revenue, identify gaps in care and, most importantly, improve the quality of care for their patients. eSimplify's analysis has shown that primary care practices are leaving billons of dollars in recoverable revenue on the table. As healthcare providers shift to a value-based payment model, eSimplify's affordable analytics helps small to mid-sized practices successfully make that transition. Founded in 2018, eSimplify is currently focused on primary care physician practice but will be expanding to other specialties in the near future.
Pradeep Kalmat is the founder and CEO of eSimplify. Pradeep worked at Aon Hewitt for over 18 years and was responsible for delivering high quality services in a highly challenging environment across various areas of human resource management. The demanding accuracy requirement of 99% or higher in that field prepared him to rely on data and metrics that provided meaningful insights to identify inefficiencies and improve processes. Pradeep relied on this knowledge and expertise to assess the market and then design, develop, and deploy eSimplify with the specific goal of creating value for primary care physician and other providers.
Panel Discussion: Looking for Funding in the Time of Coronavirus
Join New Enterprise Forum, and a panel of venture capital and angel investors for a discussion to help entrepreneurs understand investment challenges and opportunities during and post Covid-19 pandemic. This discussion will provide guidance and resources for entrepreneurs navigating through this unprecedented health and economic crisis.
Panelists: Carolyn Cassin, General Partner & Co-Founder, BELLE Funds

In 2010 Carolyn and a group of 30 other Michigan women founded BELLE Capital/Michigan, of which she is the General Partner. Over her thirty year career, Carolyn has started and grown two companies, and has been brought in to transform and turn around three more. She turned around a failing hospice organization in southeast Michigan and built it into the nation's largest and one of the best-run hospices. She was then recruited to lead the first venture capital backed hospice company in the US, Vistacare, which became a publicly traded company in 2005. Among many other awards, she has been named by Crain's Detroit Business as one of "Detroit's 100 Most Influential Women" and "Woman to Watch." Carolyn earned her Master of Public Administration degree from Western Michigan University, her BA from Miami University, and the esteemed three-year National Leadership Fellowship from the W. K. Kellogg Foundation.
Kate Hernández, Principal, Detroit Venture Partners

Kate Hernández is a Principal at Detroit Venture Partners, a Detroit-based venture capital firm. Detroit Venture Partners specializes in backing seed and early stage start-ups. Ms. Hernández has worked in various professions including legal, banking, and management consulting. Ms. Hernández has also consulted for a Mexican venture capital firm based in Mexico City. In her current role, Ms. Hernández sees an opportunity to further the role of women in technology. She founded the Detroit chapter of SoGal – a non-profit dedicated to promoting and supporting female and diverse founders – and she is also is a member of the Global Women in VC Network. Ms. Hernández earned a Bachelor's degree from Harvard College, a Juris Doctorate from Harvard Law School and a Master's in Business Administration from Harvard Business School. She resides in Detroit, Michigan.
Camila Noordeloos, Principal, Grand Ventures
Camila is a Principal at Grand Rapids-based Grand Ventures. As a Principal she identifies promising investment opportunities across Grand Venture's sectors of interest and works closely with portfolio companies driving strategy development and implementation. She also leads the firm's operations and is responsible for managing all stages of the investment process from fundraising through portfolio management and exit. Camila has 10+ years of consulting, corporate and venture capital experience. Prior to joining Grand Ventures, Camila worked at General Electric holding management positions within finance, portfolio management and business strategy. She spent six years at GE Ventures, playing a crucial role in building the foundation for it to become one of the most active corporate venture capital firms in the country, and managing a portfolio of over 150 investment companies. She has also held operational roles in startups, including an extensive project with Zinc, a GE Ventures portfolio company acquired by ServiceMax, and Imaginare Studios, a company she co-founded with two MBA colleagues. Camila earned a BBA from the Universidade Federal da Bahia in Brazil and received her MBA from The Wharton School at the University of Pennsylvania.
Moderator: Stefan Sysko, Agitator, Disruptor, Contrarian, Sysko Thinking LLC

An entrepreneur with a diverse background and over 30 years of experience, Stefan is a consultant, advisor and mentor to start-ups and rapidly-growing businesses, helping turn ideas into focused, viable business plans. He serves as faculty and Business Advisor for Goldman-Sachs 10,000 Small Business Program in Detroit, is past-president, current board member and coach at the New Enterprise Forum, and Lead Facilitator for TechTown Detroit's Start Studio Accelerator and Incubator program. He serves on the boards of several startups, and serves as a mentor and judge for a variety of organizations, programs and pitch competitions.

The ONLINE ONLY meeting opens at 4:00 pm and will end at 5:30 PM.
Registration is required in order to obtain access to the online meeting. In your registration confirmation email, you will receive Zoom meeting link and password to join the meeting.
Featured Stakeholder: