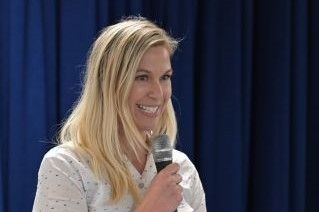 LEWARNE WINS JULY PITCH PIT COMPETITION
Four startup founders gave fascinating presentations at the July edition of New Enterprise Forum but is was Raeanna Lewarne of HealthFreelance.com who took home the prize. Judges praised her very thorough and confident presentation of her business plan for a website that connects medical and non-medical healthcare professionals with hospitals and other employers for contract work.
The judging panel included Kim Brown of Duo Security, Ashwin Puri of Invest Detroit Ventures, and Paul Riser Jr. of Techtown Detroit.
The enthusiastic audience gathered at Ann Arbor Spark on Thursday evening opened up their wallets and tossed over $300 into the prize money bucket.