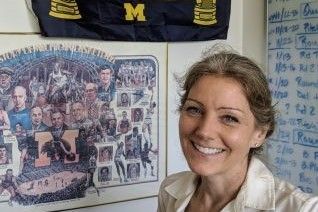 MEMBER SPOTLIGHT: ANNE PERIGO, UNIVERSITY OF MICHIGAN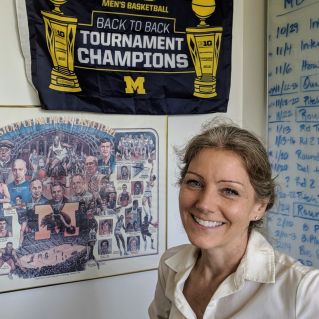 Team posters, banners and other Michigan basketball memorabilia provide a colorful theme for the decor of Anne Perigo's office at the Ross School of Business. It is perhaps not too surprising that an Ann Arbor native who graduated from Pioneer High and has a BBA from the University would be an enthusiastic fan of the hoops team and of both departing coach Beilein and incoming coach Howard.
As Associate Director of the Zell Lurie Institute, Perigo is responsible for several non-curricular programs at the business school that promote entrepreneurial activity among students, including the Michigan Business Challenge and the Michigan Investment Challenge. "I love my job," Perigo says, citing her "great satisfaction in working with students, helping them to learn and to achieve their goals."
Perigo also serves on the board of the New Enterprise Forum, acting as a key liaison between the Institute and the non-profit group, finding opportunities for synergy between two organizations focused on promoting entrepreneurship. Perigo credits the NEF with helping to "build an entrepreneurial community" through its events and programs. As a naturally curious person, she enjoys participating in NEF coaching sessions where she often learns new things from the local entrepreneurs and from the other coaches.
Perigo's Ann Arbor connections run deep. Early in her career, she was responsible for commercial lending at a regional bank, supporting growing businesses in the area. Perigo and her husband have four children, all of whom attended Ann Arbor Public Schools, and also care for several pets.