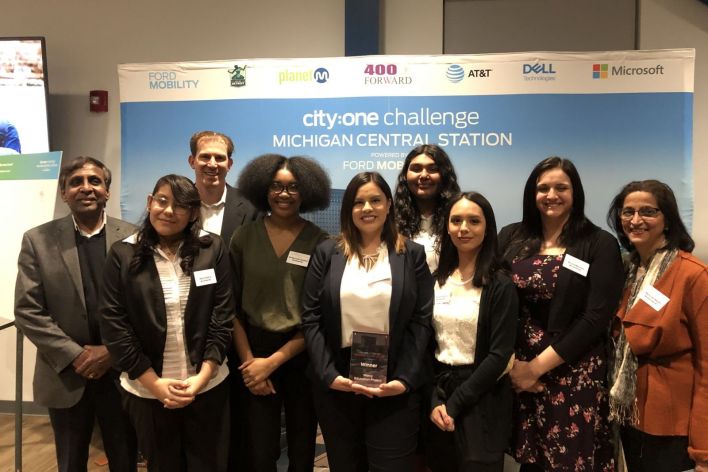 NEF COACHED HIGH SCHOOL GIRLS TEAM WINNER AT FORD'S THE CITY:ONE MICHIGAN CENTRAL STATION CHALLENGE
Mercy Education Project team, comprised of high school girls won funding for their pilot project Rock City Mobility Stations.
When the 11th grade girls of Mercy Education Project were asked about mobility in their neighborhood, Southwest Detroit, they identified two key concerns: Getting around safely and feeling isolated from the greater city. Because Detroit is so geographically large and lacks an all-encompassing and dynamic transportation and communication system, these young residents feel disconnected. Rock City Mobility Stations look at mobility through the eyes of youth who are not able to utilize a car, but still need to get around their city, while also contributing to a quality visitor, tourist and worker experience.
Click here to learn more about the Michigan Central Station challenge and all the winners.
Vic Havele, Manjiree Nikam, and Robert Shannon coached Mercy Education Project Team at TechTown in Detroit. Bill McPherson, David Rish, Vic Havele and Bob Shannon coached several other finalists.
As part of this challenge, Ford Mobility sought written proposals from around the country and selected twelve teams as finalists to revitalize Detroit's oldest neighborhood-Corktown, around Michigan Central station. Ford requested New Enterprise Forum to help these finalists prepare 5-minute pitches to judges in order to win pilot funding for their mobility solutions, based on Ford's evaluation criteria. The competition took place on Jan 23rd. Finale Event was held in Detroit on January 30th.