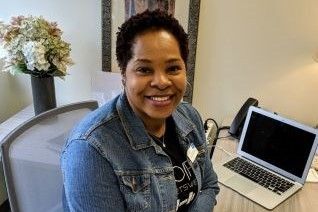 NEF MEMBER SPOTLIGHT: APRIL DAVIS, BREAKOUT MARKETING GROUP
A communal breakfast of waffles and bacon to kickoff casual Friday is just one of the many pluses of the new co-working space where April Davis now operates her Breakout Marketing Group, a consulting firm she founded 20 years ago. April enjoys the opportunities to chat with other professionals in the office while she works hard on developing her own marketing services business, focused on optimizing social media and customer engagement. Recently she treated a visitor to a fine cup of cold brew coffee while seated at her desk overlooking the Briarwood neighborhood in Ann Arbor.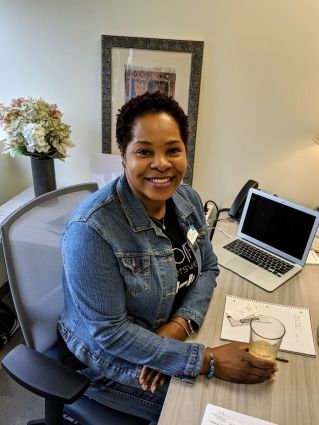 April caught the entrepreneurial bug early in her life and started multiple enterprises in her home town of Buffalo, NY. She moved to Michigan in 2000 and since then has earned degrees in business and marketing from Washtenaw Community College and Eastern Michigan University. April works with companies in a range of industries but is particularly focused on mobility ventures in the automotive space. She hopes to expand her business into global markets over the next few years and is developing contacts in China and Brazil as well as Canada and England.
April joined the Board of the New Enterprise Forum at the beginning of 2019 and has quickly taken on an active role in the organization. She is currently the impresario for the NEF's Pitch Pit competitions, recruiting budding entrepreneurs and experienced judges for these events that NEF presents every other month. April is also using her marketing skills to help expand NEF's social media presence. April sees her volunteering with NEF as one important part of her broader effort to "invest in relationships" and "be a part of the ecosystem", planting seeds that will blossom in the future.
In addition to all her professional activities, April makes time for nature walks and enjoys baking and wine tasting. If you are lucky you might even find one of her Aunt Hazel lemon pudding cakes at a local restaurant.